Hyperbolic Geometry in Two and Three Dimensions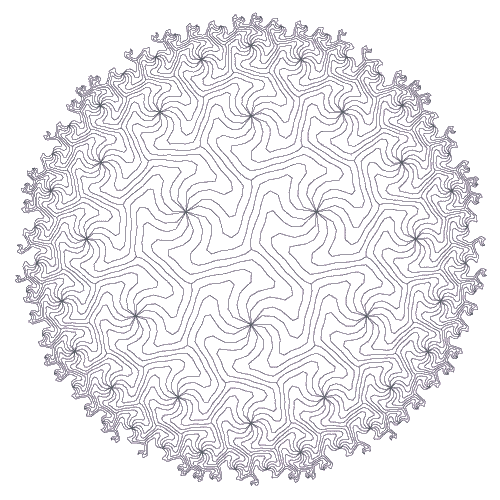 Course Info
Tutorial Description: html pdf ps
Special Meeting Time: Due to the fourth of July holiday, the second lecture will be held at 5:30pm on Thursday, July 5.
Links
The Geometry Center (formerly The Geometry Supercomputer Project, producers of the video Not Knot).
Gallery of images, many related to hyperbolic geometry (from Curt McMullen's web page).
Interactive Hyperbolic Geometry - Java applets and animations demonstrating hyperbolic geodesics, isometries, and trigonometry in different models. (No longer available. Sorry!)
Pictures and Animations in the hyperbolic plane, postscript and MPEG.
Assignments
| | | |
| --- | --- | --- |
| Week Starting... | Reading | Homework |
| Jul 2 | Th 2.1-2.2 | Th 2.1.2, (2.1.4), 2.2.7, 2.2.13 |
| Jul 9 | Th 2.3-2.4, 1.1-1.2 | 2.3.6, 2.4.11, 2.4.14, 1.2.2, 1.2.5 |
| Jul 16 | Th 1.3, 3.1, BP B.2-B.4 | Th 1.1.2, 1.2.6, 1.3.2, 1.3.13, 2.2.17, 4.6.19 |
| Jul 23 | Th 3.2-3.4, BP B | Th 2.3.12 |
| Jul 30 | -- | (research project) |
| Aug 6 | -- | (research project) |
Th = From Thurston's Book; BP = Handout from Benedetti and Petronio

Presentation Schedule
| | | |
| --- | --- | --- |
| Date | 7:00 - 7:45 | 7:50 - 8:35 |
| Jul 30 | G. Anderson, Shapes of Hexagons | A. Shwayder, Polygons and Tesselations |
| Aug 1 | S. Worsley, Shapes of Pentagons | M. Hill, Topology of Hyperbolic Manifolds |
| Aug 6 | A. Tievsky, Automorphisms and Orbifolds | N. Hill, Hyperbolic Geometry via Lie Groups |
| Aug 8 | V. Chu, The Modular Group | W. Ho, The Gauss-Bonnet Theorem |
---
David Dumas
ddumas@math.harvard.edu