Problem 2 - Flask divisors¶
Write a Flask application that takes an integer given as part of the URL and returns a page listing the divisors of the integer and whether it is prime or composite.
Specifically, the app should respond to a request such as
/divisors/of/7/
/divisors/of/18/
/divisors/of/832/
or anything of the general form /divisors/of/<N>/ where N is a positive integer greater than one, and generate an HTML document with:
A title "The divisors of N"
A top-level heading reading "The divisors of N"
An unordered list whose items are the positive integers that divide N, starting with 1 and ending with N.
A top-level heading reading "Classification of N"
A paragraph reading either "The integer N is composite." or "The integer N is prime." depending on whether there are more than 2 divisors or exactly 2 divisors, respectively. The last word in the sentence should be given strong emphasis. Here, each N must of course be replaced by whatever integer is specified as part of the URL.
For example, running the app and then loading http://localhost:5000/divisors/of/18/ in a browser (perhaps changing 5000 to the port number Flask reports it is using when it starts up) should produce a page looking something like this: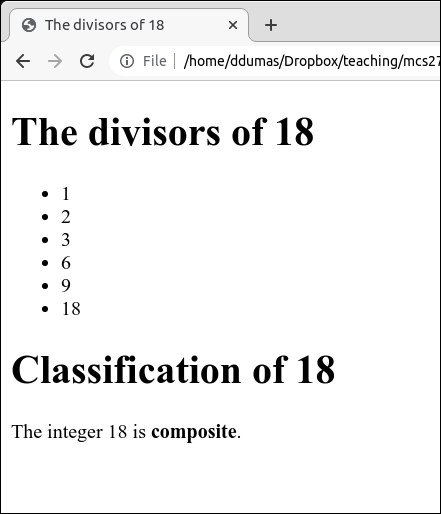 Hints¶
The point of the problem is to show you can generate HTML in a Flask application, so here's some advice to make the mathematical side easier.
You can just iterate through all the integers k between 1 and N and check whether each one is a divisor of N or not. This problem does not require you to use a more efficient method.
An integer k between 1 and N is a divisor of N exactly when N%k == 0.